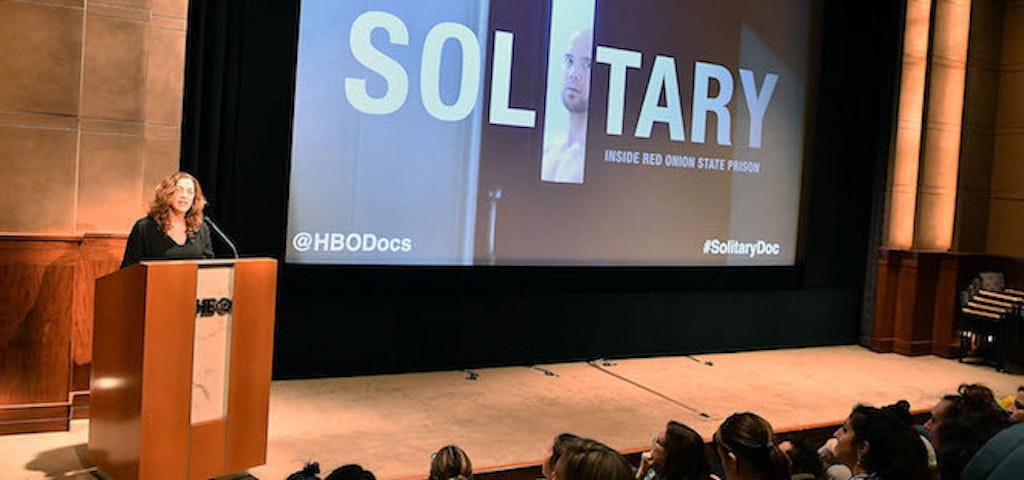 Could you live trapped in a space the size of a bathroom for 23 hours a day?
That's not a question most people tend to think about. However, after seeing Kristi Jacobson's harrowing documentary Solitary: Inside Red Onion State Prison, at a special HBO screening last Wednesday, I was able to think about little else.
Jacobson was given unprecedented access to Red Onion State Prison, a supermax security correctional facility in Virginia. Over two-thirds of the prisoners in Red Onion are kept in solitary confinement or – as the practice is known in the prison system – "segregation." These inmates spend years, many decades, in 7' x12' rooms, only allowed one hour outside their cells per day.
While watching SOLITARY, I often felt a sense of claustrophobia as though I too were inside Red Onion. Much of this visceral reaction is due to the way Jacobson and her sound team use sound design to make the experience an immersive one. Sounds of prisoners banging against their doors underscores most of the film, much as they must underscore most of the prisoners' lives.
Throughout the film, Jacobson lets these men tell their stories and talk about their experiences in segregation. They talk about coping mechanisms and how they stay sane. One inmate mentions that to ward off feelings of depression, he exercises until he's too exhausted to feel much of anything. Another relishes his routine of cleaning his cell each morning and evening. Another closes his eyes, imaging the outside world he cannot see or interact with. As these prisoners talked, I began to wonder both how this inhumane practice became so institutionalized (44 states allow for segregation in their prisons) as well as how I would cope if placed in the same situation.
Picture Motion developed a comprehensive strategic plan for the film's engagement campaign. We used SOLITARY as an anchor to bring together policymakers, grassroots organizers, non-profit organizations, law students and Correctional Officers to help advance and accelerate legislation and reform. Thanks to organized screenings, like the one I attended on Wednesday, Picture Motion was able to help spread the reach of this important film. And while the film depicts a very somber subject, we focused on increasing momentum behind the movement to end solitary confinement by raising awareness about and for tangible opportunities for change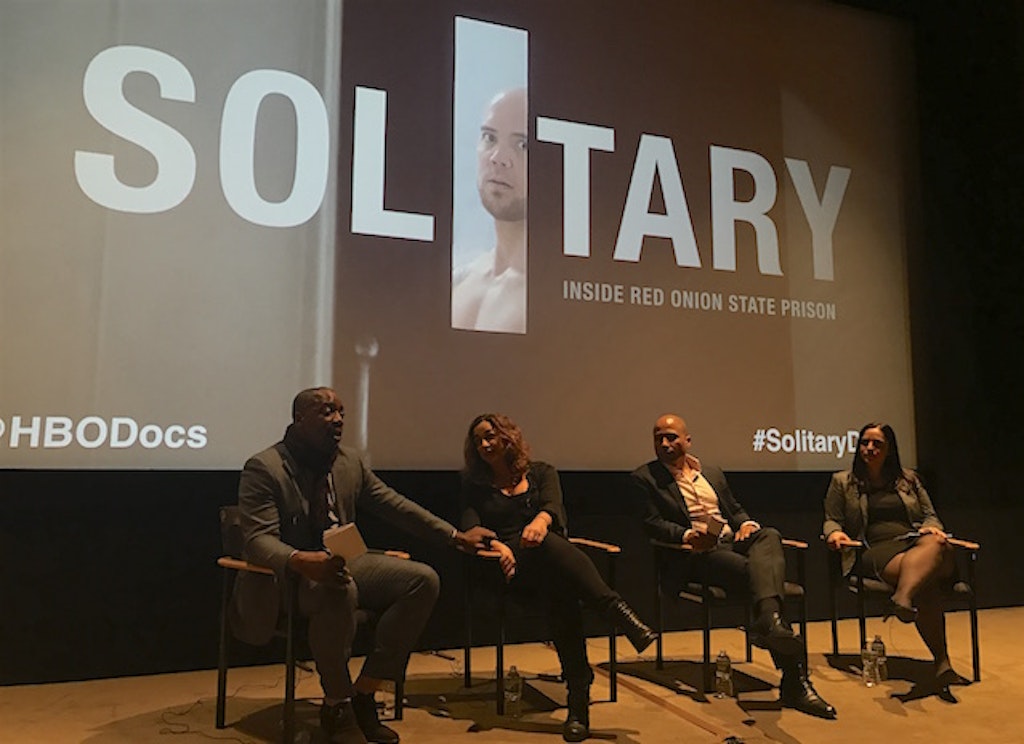 After the film screening ended, I and the rest of the audience sat in total silence, still working through what we had just seen. Luckily, we had an expert panel to help us process. Moderated by Malik Yoba, the panel consisted of Jacobson, Glenn E. Martin – a criminal justice reform advocate and founder of JustLeadership USA, and Sara Sullivan – a project manager with the Vera Institute of Justice who works to help end segregation in prisons across the US. Each spoke how challenging it is to get people to think about ending solitary confinement; changing a known practice is full of uncertainties. However, they mentioned that more and more, people in and out of the prison system are recognizing the need to reform this practice.
The most powerful moments on the panel came when Jacobson invited Kimberly Jenkins-Snodgrass, an activist attempting to end segregation in prisons and whose son is a prisoner at Red Onion, to speak. She said that when she first heard a movie was being made about Red Onion, she was furious, assuming it would sugarcoat or glamorize the institution. However, after seeing the film, she felt Jacobson "nailed" what Red Onion is really like and did not fall into traps of either glamorizing the prison or trying to find the "perfect" prisoner, as some other films do.
With this harrowing and insightful film, Jacobson has opened up some of the most closed off lives in America, and I for one, have not been able to get their stories out of my head. The film is a reminder that we can't just plug holes in the system, we must truly reform it. The Vera Institute of Justice's Reimagining Prison initiative, a campaign that encourages the public to visit prisons and begin to understand prisons and incarcerated citizens as part of our community, is a vital step in that direction. The film's impact campaign is seeking help ensure that seeing the film is just the first step in citizens taking greater interest in, and accountability for, what goes on inside our prisons. It is necessary for people to understand what takes place inside prisons. Contact a local jail or prison in your community and ask to take a tour. Your tax dollars pay for these prisons – you have every right to see what happens inside them.
Don't miss the premiere of Solitary: Inside Red Onion State Prison on HBO and HBO GO this Monday, February 6th at 10 pm ET/PT! Please use the hashtag #SolitaryDoc to continue this conversation online.
__
By David Quintas: New York City Intern
David Quintas is a Junior at Columbia University where he is pursuing degrees in Political Science and Film Studies. At Columbia, he is currently the President of the Hillel Executive Board, an editor for Double Exposure: the Undergraduate Film Journal, and a member of the Undergraduate Recruitment Committee. He is from Evanston, IL and enjoys running, reading, and taking a good nap.