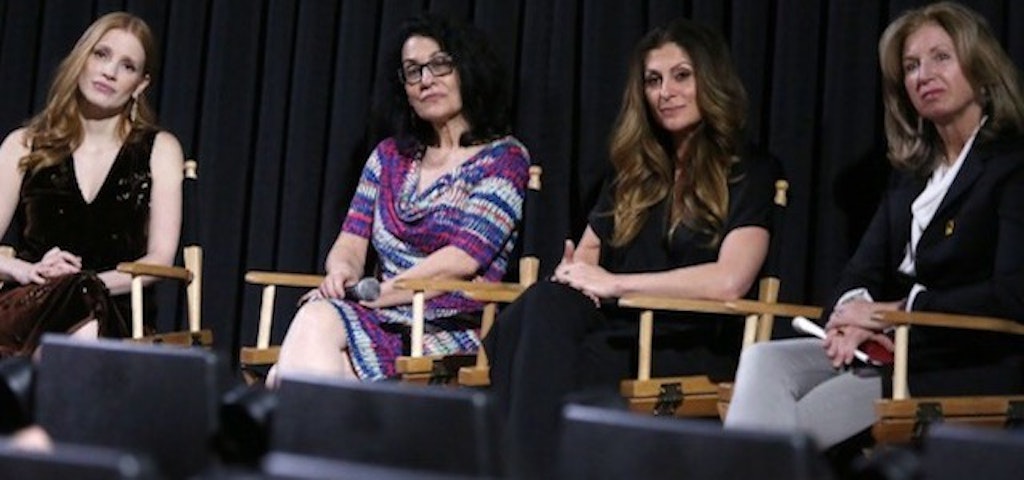 The Zookeeper's Wife may take place in 1939, but its lessons — however unfortunately — ring just as true today. Since January 2017, about 100 Jewish institutions have received phone calls and bomb threats and Jewish cemeteries have been vandalized in Missouri, Pennsylvania, and New York. There is a tidal wave of resistance to President Trump's immigration-related plans and thousands of people across the country have spontaneously gone to arrival terminals at airports and participated in community protests throughout the United States to show their solidarity for refugees.
A major theme of The Zookeeper's Wife is resistance, as seen in the way Antonina Żabińska (portrayed by two-time Academy Award nominee Jessica Chastain) refuses to stand by and let hate or the persecution of others happen without her resistance. The Zookeeper's Wife tells the real-life story of one working wife and mother who puts herself and even her children in danger by hiding over 300 Jewish people in the Warsaw Zoo during World War II.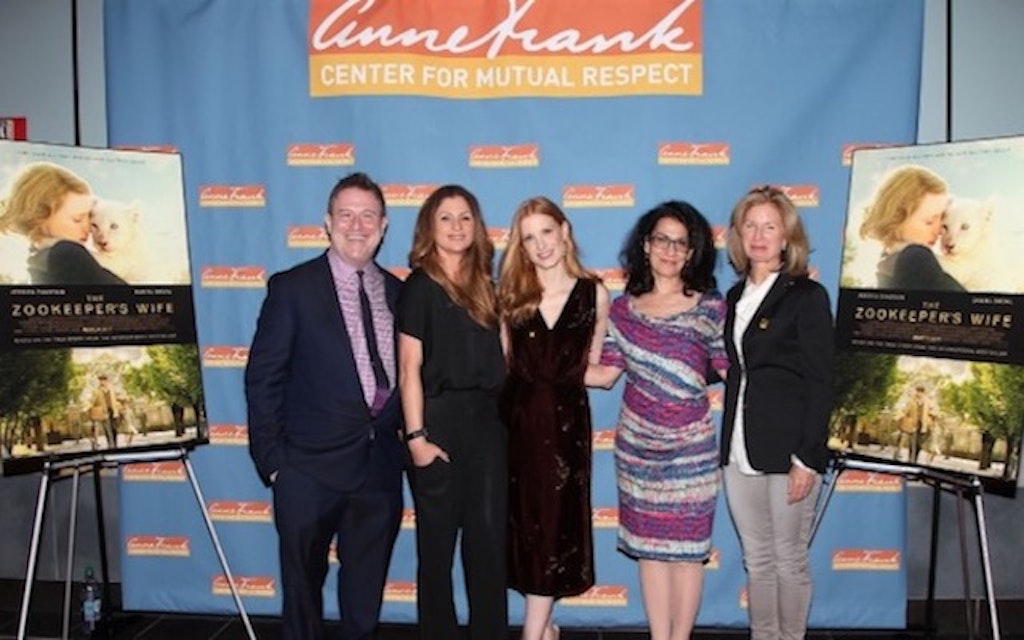 Steven Goldstein, Executive Director of the Anne Frank Center For Mutual Respect, Niki Caro, Director, Jessica Chastain, Actress, Angela Workman, screenwriter, and Sarah O'Hagan, IRC Board Chair Emeritus
In preparation for the film's upcoming theatrical release on March 31st, Picture Motion partnered with the International Rescue Committee (IRC), which provides humanitarian aid in 40 countries and resettles security-vetted refugees to 28 U.S. cities, to set up a series of preview screening events across the country. The special advanced screenings began on March 12th in Richmond, VA, where over 300 people attended, and continued in Denver, Seattle, Phoenix, Boston, San Francisco, New York, and Los Angeles, where it will play at the revered Museum of Tolerance. Panel conversations at each screening featured representatives from the IRC and community leaders to highlight the urgency of taking meaningful action to support refugees.
This partnership was a no-brainer. The legacy of World War II is the legacy of the International Rescue Committee. The vision of IRC's founding leaders was born out of the need to provide lifesaving services to the most vulnerable. At the time of its founding, leaders such as Albert Einstein, Elie Wiesel and Varian Fry fought to provide hope and freedom to those oppressed by murderous totalitarianism.
At Picture Motion, we believe in the power of convening audiences around great films which inspire them to take a stand for humanity. There is no other group that is driving citizens to stand up for American values more than the IRC at this moment in history. Picture Motion and the International Rescue Committee plan to have over nine screening events prior to the release.
In the spirit of the Żabińskis' heroic story and a key scene in the film, we also collaborated with International Rescue Committee to create a free Haggadah supplement that can be used alongside the existing Haggadah this Passover. This supplement connects the story of Passover to current humanitarian issues and offers meaningful ways to take action. These additional materials (screening guide and Passover Haggadah insert) were also distributed at these events in order to give audiences tangible next steps on ways to help refugees and take action in their own communities after the screening events.
The hope is that the story of the Żabińskas will inspire others to follow in their footsteps to use bravery and kindness to resist hate, wherever and whenever it arises.
Learn more about The Zookeeper's Wife by visiting its website and following the film on Twitter, and Facebook. The film opens this weekend, March 31st, nationwide.
__
By Julie Kohn, Director of Partnerships
Julie Kohn serves as Director of Partnerships at Picture Motion where she most recently worked on America Divided, Solitary, Where to Invade Next and Ellis. Prior to joining Picture Motion, Julie was the Director of Business Development at branding and marketing firm DeSantis Breindel. Before that she was working in documentary programming at the Tribeca Film Institute and screening events at A&E IndieFilms. She also spent 3 years as an Associate Producer on the documentary A Place At The Table. Julie graduated from The George Washington University Elliott School of International Affairs, where she received her B.A. in International Affairs and Geography.