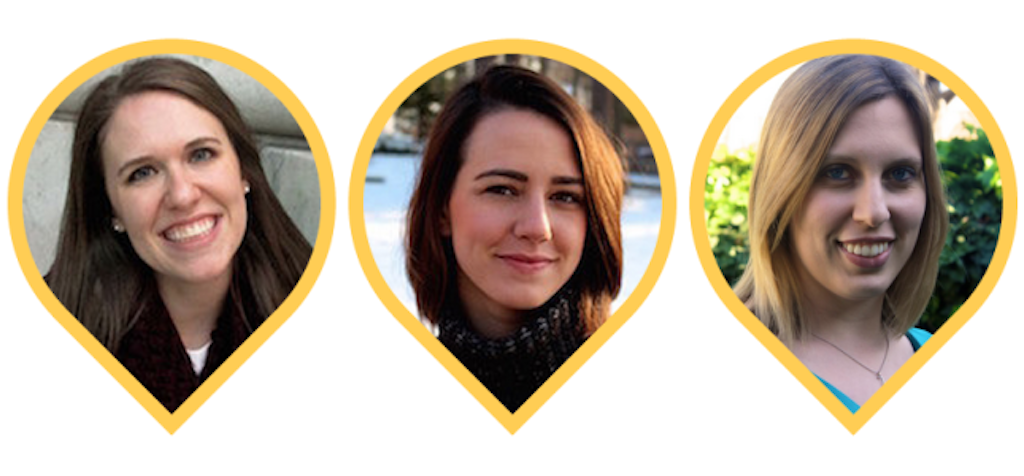 The Picture Motion team is growing in New York City, Washington, DC, and Los Angeles, and we could not be more excited! Please meet our three new team members: Macrae McDermott, Annabelle Baskin, and Kait Halibozek!
Our coordinators each bring a diverse range of skills, a depth of expertise, and add to the wealth of creativity and talent that make PicMo such a unique place to work. It's a great pleasure to have them on our team.
We are proud to introduce the newest members of the PicMo team:
Meet Macrae!
Macrae McDermott, Campaign Coordinator in New York City
Macrae joined the Picture Motion team in 2014. Her prior professional experience focused on social media strategy and implementation within the non-profit sector. Her passions for social activism and storytelling inspire to her to contribute to the work of organizations instigating positive social change through creativity and innovation. In 2011, she joined the marketing team of Kiva.org in San Francisco, CA. As the organization Social Media Strategist, she was able to creatively engage a vast online audience. She has also done work for Slavery Footprint/Made In A Free World, Teach With Africa, m.o. Partners, and 100cameras. Macrae graduated from Brigham Young University in 2010 with her BS in Sociology, with minors in Political Science and African Studies.
Want more Macrae? Follow her on Twitter: @MacraeMcD
Meet Annabelle!
Annabelle Baskin, Campaign Coordinator in Washington, DC
As a Campaign Coordinator in Washington D.C., Annabelle has diverse experience in political communications, grassroots organizing, and public relations. Prior to joining Picture Motion, Annabelle served as a Field Organizer on Senator Mary Landrieu's 2014 reelection campaign in New Orleans, Louisiana. There, she built and managed a grassroots campaign presence in the battleground region of Jefferson Parish, and helped to develop the campaign's social media engagement strategy to energize the Democratic constituency. Previously, she interned at Nike Communications, where she learned the importance of utilizing storytelling in the digital sphere. She additionally studied at Butler University in Buenos Aires for six months, where she studied Argentine cultural cinema and media studies. Annabelle earned her Bachelor's degree in English literature and Spanish language from Tulane University in May of 2014. Annabelle is deeply passionate about advocacy, community engagement and advocating for underserved communities.
Want to keep up with Annabelle? Follow her on Twitter: @bellebaskin
Meet Kait!
Kait Halibozek, Campaign Coordinator in Los Angeles
Kait joined the LA Picture Motion team in 2015. Her prior experience is in media brand strategy and television production. In her former position at brand and content strategy firm Audience Theory, she was responsible for research as well as social media and content analysis as it pertained to current trends in the television space. Prior to that, she was a member of TakePart Agency Group, Participant Media's cause marketing arm. Kait earned her Bachelor of Arts degree in Film Studies from Wesleyan University in Middletown, CT, in 2010, where she also discovered her passion for social issues including women's rights, LGBTQ rights, and climate change.
What's the latest from Kait? Follow her on Twitter to find out: @KaitH_LA