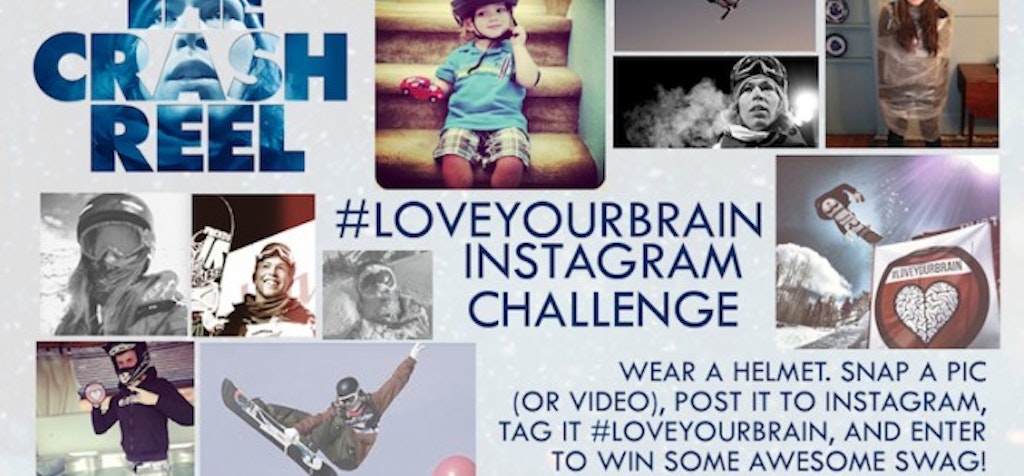 Last week we received some exciting news – Lucy Walker's The Crash Reel made the paired down list of potential nominees for the Academy Awards Documentary category! While it's not an official nomination, it still presents an opportunity for this issue to reach a wider audience.

The Crash Reel follows the "fall and rise" of U.S. champion snowboarder Kevin Pearce after he receives a traumatic brain injury while training for the Winter Olympics. The film's campaign is called LOVE YOUR BRAIN and has a focused goal, to encourage smart and safe participation in sports and to provide resources and support to those who have gone through traumatic injuries.

The campaign is primarily targeting young people who actively participating in extreme sports. To reach our target audience, we are going where they are and speaking in their language. Check out our current campaign initiatives below.
Instagram Challenge:
Wear a helmet. Snap a pic. Upload to instagram with the #loveyourbrain and be entered to win awesome prizes like a signed copy of The Crash Reel or a GoPro Camera! With the help of Kevin's professional snowboarder friends, we're hoping to make helmets cool.
1. Install Instagram on your phone.
2. Follow @thecrashreel on Instagram
3. Take a photo of yourself wearing a helmet
4. Post the photo on Instagram with whatever caption you would like. Just make sure you tag #LOVEYOURBRAIN!
5. We will select a winner every Friday!
Share Your Story (Brain injury or otherwise)
This initiative is inspired by Simon and Pia Pearce who taught their four sons not to be ashamed of their disabilities and challenges, whether it be dyslexia (which all the men in the family have) or David's Down Syndrome or Kevin's Traumatic Brain Injury. Everyone benefits from sharing experiences honestly and courageously. In this spirit we are inviting anyone to share their TBI story, or any other kind of story of survivorship, on the film's Tumblr or Facebook wall. We've received over 150 incredibly moving stories, and are thrilled to see the community of support growing on Tumblr.
#LOVEYOURBRAIN Infographics and Stickers:
People love images! In recent years we have seen an increase of image driven platforms like Pinterest and instagram. Twitter now lets you see images in your feed, and Facebook spent a billion dollars on Instagram. To respond to the thirst for images, we packaged brain injury response information into a colorful infographic, which can be downloaded or shared on social media. Check it out. The campaign is also giving away LOVE YOUR BRAIN stickers so snowboarders can show their helmet pride!
Wear Helmet, Sign the Pledge:
The #LoveYourBrain campaign is about promoting safe sports practices. A helmet saved Kevin Pearce's life and it can save yours too. Add your name to this pledge to wear a helmet during extreme sports activities and join our mission to help create a culture that loves and respects the awesome power of our brains. Sign it now

We just gave you four simple ways to support this campaign. Which will you pick?