I've been reading a lot of graduation speeches lately. Inspirational knowledge coming from the most successful people in society, handing down knowledge to those most eager and able to actually change the world. While I'm not quite as close to the age of a college graduate as I'd like to be, I have still gleaned knowledge from these speeches, even knowing that they are packaged only for the most privileged of us, those that in some capacity have a world at our fingertips. So I was particularly struck by this quotation from Samantha Power's speech at Barnard College:
"But it is not enough to find our own voices. True equality also requires that we learn to hear, and lift up the voices of those whom others choose not to hear."
Power's statement sums why I believe that films have impact. My role is not in telling stories, but is instead helping people hear those stories because it is an important part in bringing forth social justice and equality. One story that I believe encapsulates this idea so well is Free CeCe.
Why This Film?
Free CeCe!, a powerful documentary told through the voices of Laverne Cox and CeCe McDonald, boldly confronts the epidemic of violence against transgender women of color. By unpacking the story of CeCe McDonald, who survived a racist and transphobic attack in Minneapolis in 2011, the film explores her incarceration, release, and life after prison as an advocate and prison abolitionist. This film has the power to lift up these unheard and uncomfortable stories, not padded by the comforts of celebrity, education, and cisnormative beauty standards.
In this historic moment, when we are all thinking about and being shaped by Cait Jenner, and the people who came before her who made her public transformation happen — Chaz Bono, Janet Mock and Laverne Cox and many others — it's equally important that we be able to listen and lift up the stories that are not like are own.
Stories like CeCe's represent and expose the disproportionate violence that transgender women of color face daily. In fact, according to a report by the National Coalition of Anti-Violence Programs, 72 percent of victims of anti-LGBTQ homicide were transgender women, and 89 percent of victims were people of color. Transgender people are also more likely to experience violence by police, experience higher rates of HIV, and higher rates of suicide attempts. 1 in 5 transgender people have been homeless at some point in their lives.
What's the Impact?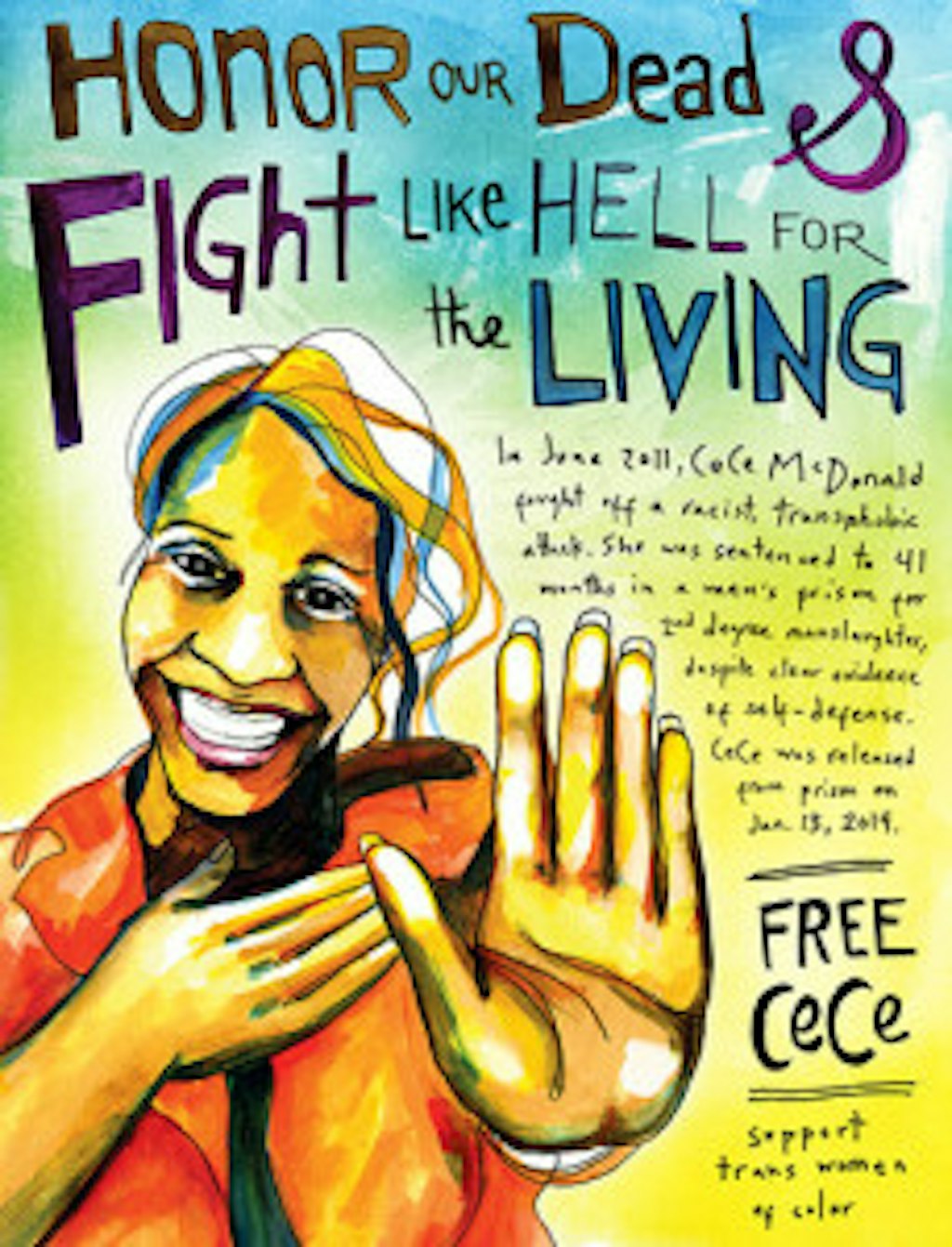 With a strategic impact campaign, this film can take over where media like Transparent andBecoming Us leave off. This film can speak to the most vulnerable segments of transgender community, trans women of color, reflecting their own unique struggles and starting dialogue and providing resources for trans women protect themselves from violence. A potentially powerful educational tool, this film can also be used with social workers, police officers and lawyers to educate them on the experiences of transgender women and the prevalence of transphobic hate crimes.
Producer Laverne Cox's prominent position in the media can also be leveraged to get this issue into the mainstream media. To further educate local and national media about proper gendering and accurate police reporting when covering trans issues, particularly victims of hate crimes, and to build mainstream public awareness about the everyday struggles and the epidemic of violence against trans women of color, and help push forward policy change on the state and national levels to protect transgender people from housing and workplace discrimination and stronger enforcement of hate crime legislation.
Support this Project!
of our deep belief in this project to lift up an important story Picture Motion is donating $75 towards the completion of Free CeCe. If you read this blog, I encourage you to watch this video, and if you can donate, to help lift the lives of trans women of color, whose voices we often choose not to hear. Donate to project here: http://www.indiegogo.com/at/freecece/x/3898742
I leave you with this final quote by Laverne Cox on what Caitlyn Jenner's Vanity Fair cover means:
"I have always been aware that I can never represent all trans people. No one or two or three trans people can. This is why we need diverse media representations of trans folks to multiply trans narratives in the media and depict our beautiful diversities… Most trans folks don't have the privileges Caitlyn and I have now have. It is those trans folks we must continue to lift up, get them access to healthcare, jobs, housing, safe streets, safe schools and homes for our young people. We must lift up the stories of those most at risk, statistically trans people of color who are poor and working class."
__
By Darcy Heusel, Senior Director of Campaign Strategy (@darcyheusel)
Darcy's expertise in impact film stretches from social media and online engagement to film marketing and distribution. Her projects at Picture Motion include Fed Up, American Promise, Bully, The Crash Reel, and Herman's House. Previously, Darcy was the Director of Programming and Marketing at Constellation.tv where she oversaw business development, client relations, social media and digital strategy. While there, she also directed new media events for The Vow, Magic Mike, and films from the Criterion Collection. Prior to Constellation, Darcy was Director of Acquisitions and Marketing at Screen Media Films where she acquired and oversaw distribution (Theatrical, DVD, VOD, Digital and more) and marketing for over 50 films. Darcy serves on the advisory board for the Minority Independent Producers summit and volunteers in her free time with Ghetto Film School NYC. Darcy graduated with a BA in political science and writing from Washington University in St. Louis.