For months, buzz generated around the case of Gavin Grimm — a transgender teenager from Virginia whose fight for bathroom rights ascended the court system. Like many important cases on gender rights, Gavin Grimm v. Gloucester County School Board had the potential to lend national significance, and precedent, to an issue just gaining momentum.
Indeed, while stories such as Gavin's and Caitlin Jenner's have gained national attention, the harsh realities of transgenderism in the United States remain in the shadows. It was in this setting that National Geographic published its special January issue on the Gender Revolution, and soon after released the Gender Revolution documentary, starring Katie Couric. The film explores the complexities of gender in everyday life, from the moment we are born through our twilight years, weaving science with human experience in Couric's journey across the United States. She meets with the leading scientists and experts of their field to answer questions about gender identity. She also speaks with the ordinary people — including Gavin Grimm — whose bodies and minds are on the front line of an emerging battle for civil justice.
When I began my internship in late January, the Picture Motion team was about to hit the ground running with Gender Revolution. We were tasked with spreading the revolution on college campuses and asking students – of every background, identity and belief – to join conversation. Communities, classrooms, and organizations willing to host screenings would be given the DVD and education guide at no cost. The project quickly gained momentum, especially after PFLAG shared the opportunity with all their local chapters.
Part of my three days a week in the Picture Motion office was spent learning how to manage a screening tour on this level. Specifically, I helped respond to screening requests for Gender Revolutionand ensure all hosts provided the correct shipping information to the fulfillment company. I also learned how the company uses social media tracking tools to track screenings to ensure the hosts promote their events in advance and post photos of their audiences. These are two of the requirements for getting a free license to screen the film.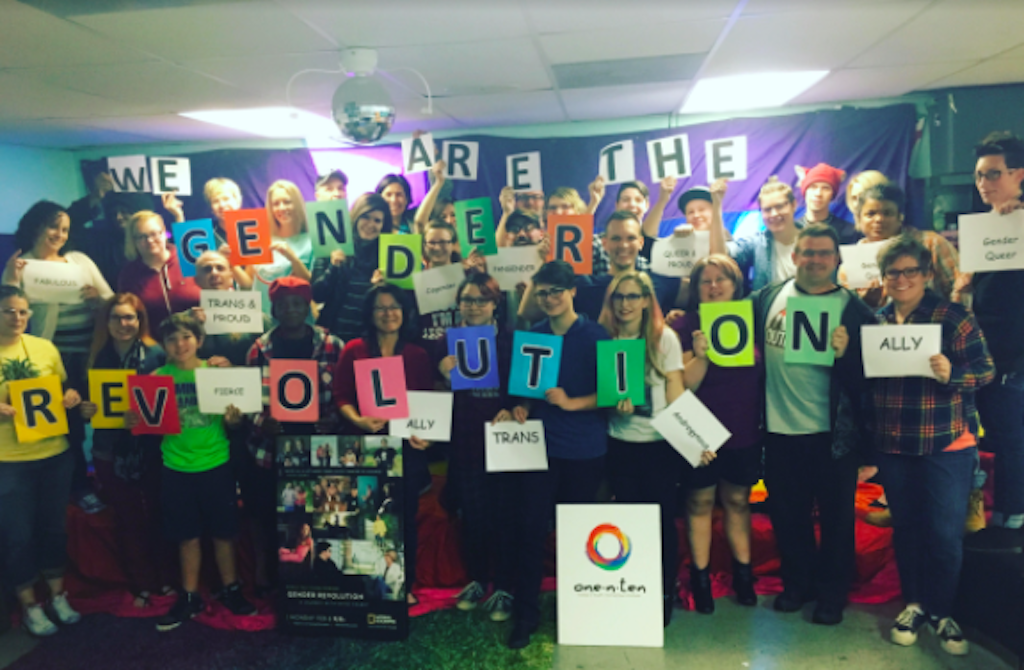 The feedback we have received has been overwhelmingly positive; audiences are inspired by the film, and are engaging in productive discussions of gender that reach beyond the formulaic questions in the education guides. Aidan Key, a screening host and non-profit leader in Seattle, reflected on the film on his HuffPost blog, and told us he was "impressed with the progression of the informative portions, and appreciated the efforts to cover a wide range of personal experiences throughout."
It's been powerful to see communities with such demographic and geographic variety engage in the same discussions, and take the same pledges in this revolution. As my first project at Picture Motion, it was a terrific example of a film campaign with the power to ignite, and shape, a broad conversation about an issue of vital social importance.
For myself and for many screening hosts, much of the scientific information in this film was not new or surprising, but it provided an excellent reminder that gender is still severely misunderstood, misrepresented, and mistreated in our country. Bringing together health professionals, transgender individuals, and celebrities, the film is a basis for a new national conversation, which will focus on realities of the transgender experience. By broadening the discourse, we can lend the attention and support that the transgender community has long-needed, and foster the sort of national ethos that will bring gender identity into civil rights law.
You can now stream the full documentary, or clips from it, on the National Geographic website, by logging in with your TV provider. You can also follow the #GenderRevolution on National Geographic's Facebook, Twitter, and Instagram accounts.
__
By Emmett Werbel, New York City Intern
Emmett is thrilled to be interning at Picture Motion's New York office. He is from Brooklyn, but originally from Burlington, Vermont. He is currently a freshman at Columbia University, studying Political Science and American Studies. In the past, he has worked on various political campaigns and as a constituent services intern for U.S. Representative Carolyn Maloney, and coordinated political discussion and activism in his high school. Emmett is particularly excited about working on social media strategies at Picture Motion, and is passionate about issues of criminal justice reform and climate change. In his free time, Emmett can be found exploring New York by bicycle.