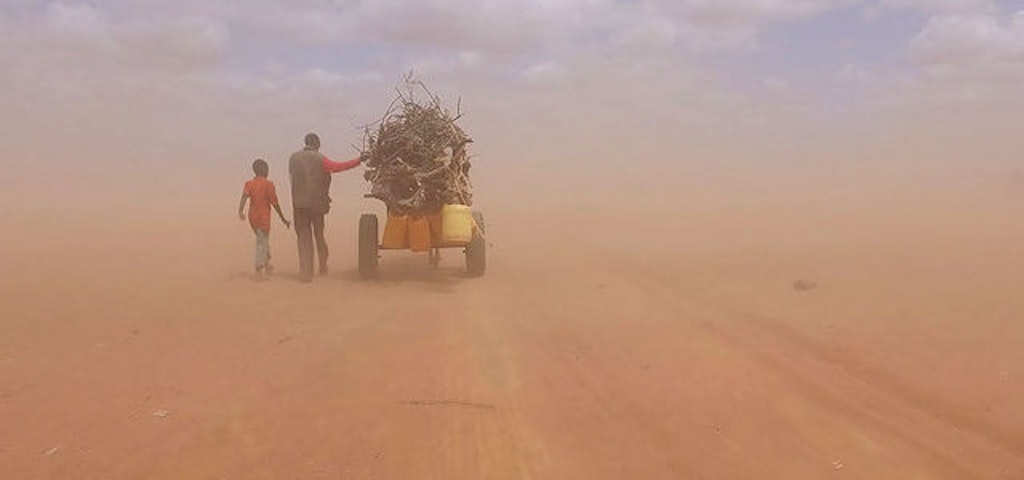 As the refugee crisis grows internationally, it's refreshing to see a recent shift in how refugees are portrayed in film. In the past, media outlets have often portrayed people from areas of conflict and unrest as antagonists. It's important that refugees' stories are told so that more people will fully understand the very difficult situation and varied refugees find themselves facing. The three films below are examples of media that effectively portray the situation refugees are coming from in an inspiring and impactful way. If audiences continue to seek out and share these stories, our hope is that we can use media to change the general perception of refugees towards one of compassion.
The documentary Human Flow, directed by the internationally recognized Chinese artist Ai Weiwei, follows immigrants over a one year period in 23 countries. While Weiwei is known for his contemporary art and architecture, he's also an activist. Human Flow contains on-site interviews with refugees, following them on their journey, and eventually showcases what happens once they reach their destination. Weiwei focuses in on the scale of the refugee crisis by visiting refugee camps, barbed wire borders, and perilous ocean crossings, showcasing the displacement of the 65 million people around the world who have been forced from their homes. Ai Weiwei hits hard on a story that is important to him - he and his family were exiled to a labor camp in the Gobi Desert by the Chinese government in 1958 when his father Ai Qing was denounced by the Mao Zedong and the People's Republic of China for his work as a poet. Weiwei is featured but always puts the very difficult situation refugees are in as the focus. Human Flow is currently showing in select theatres nationally, and is also available for preorder on Amazon Video!
On The Other Side Of Hope is a narrative I had the opportunity to see this year at the 55th New York Film Festival. The director, Aki Kaurismäki, a well known Finnish filmmaker, presents the second film in his self-proclaimed refugee trilogy (all three about different refugee characters in similar situations), the first being Le Havre. In On The Other Side Of Hope, the main character, Khalad, is already in Europe, so the film focuses on what seeking asylum looks like for a refugee. Kaurismäki presents the difficulties that faces both through the new country he is in, and in how some local people react negatively to him. Thankfully, Khalad receives help from Wikström, a character who takes care of Khalad by giving him work, reuniting him with his sister who was lost elsewhere in Europe, and helps make sure his sister is able to stay in Finland by helping her gain citizenship. While the film covers a very serious topic, Kaurismäki retains his deadpan comedic style and doesn't shy away from using comedy in places where you wouldn't expect to find it. Unfortunately, On The Other Side Of Hope is currently only showing in a few theatres (one currently in the US) and is only available in the UK at the moment on DVD or Blu Ray. However, the Criterion Collection has the habit of picking up Kaurismäki's films, so we can hope to have it released in the US soon!
The Breadwinner is an animated feature, produced by Angelina Jolie and made by the Irish animation studio Cartoon Saloon, who were nominated for an Academy Award in 2014 for their film Song of the Sea. The Breadwinner focuses on Paravana, an 11 year-old girl living under Taliban rule in Afghanistan in 2001. While she lived in a frightening time, Paravana focuses on stories she invents, something she learned from her father, a former teacher. After her father is arrested on highly questionable charges, she cuts her hair and dresses herself as a boy, so that she can freely look for her father and reunite her family. Based on Deborah Ellis' bestselling novel of the same title, an animated version of The Breadwinner really allows the story to come to life. The film directly confronts the misogyny and oppression that is present under the extremist rule of the region, and how Paravana finds solutions around those difficult conditions. The Breadwinner is currently in theatres at these locations. If it's showing near you, you don't want to miss this beautifully animated film.
__
By: Jeremiah Lee, NYC Intern
Jeremiah just graduated this December from Baylor University with a Film and Digital Media degree. Jeremiah has worked at a number of film businesses including a 2017 internship at Picture Motion; Edward Jones Investments; NEXUS Global- connecting social-impact filmmakers; and was a PA for "We Go Higher," a documentary by and about children who lost parents to the 9/11 attacks. You can reach him at jeremy3lee@gmail.com.