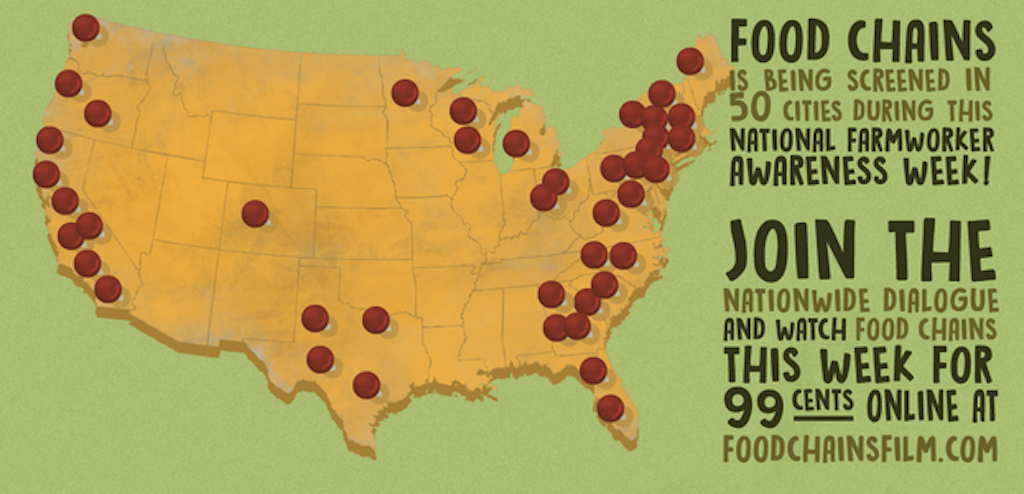 Did you know that there are about two million farmworkers in America handpicking 85% of the fruits and vegetables we eat? They are also among the most abused, overlooked, and poorest paid workers in this country.
This week – March 24th through 31st – is National Farmworker Awareness Week. To honor their hard work, we are working with the film Food Chains to ensure better treatment of America's farmworkers.
Food Chains takes the viewer straight into the heart of the American fruit and vegetable industry and exposes how the big buyers, like Safeway and Publix, keep farmworkers in poverty. This documentary is a poignant and powerful tool to focus community attention on what is happening in America's fields.

BRING COMMUNITIES TOGETHER
To do just that, we partnered with Bon Appétit Management Company, Earthjustice, Student Action with Farmworkers, the Coalition of Immokalee Workers, the International Labour Organization, Real Food Challenge, and Food Day to use the film to spark conversation in communities across America and online.
Working with these organizations and local networks nationwide, we've organized over 60 screenings, each paired with a discussion panel or Q&A.
JOIN THE MOVEMENT
Don't live near one of the these 60 screenings? The film is also available only 99cents on iTunes and through FoodChainsFilm.com.
By making the film available at this unprecedented low price online, we're bringing the conversation to the people it affects the most – those living in rural communities and on low-wages.
Join everyone taking advantage of this deal. It's a big crowd – they've even pushed the film to #1 on iTunes!
GROW THE CONVERSATION
Even with a serious subject, there's always room for a little humor. We've created lighthearted graphics to help this crucial conversation reach more people. Get your Facebook and Twitter feeds to encourage your friends to start asking the right questions before they sit down to a meal – How were the farmworkers who picked your food treated?
Luckily, there's still time to join in FOOD CHAINS online! Go to FoodChainsFilm.com and buy the movie for 99cents – it will be the most impactful dollar you spend this week!

—
By Rebecca Stern, Campaign Operations Manager @beckys11