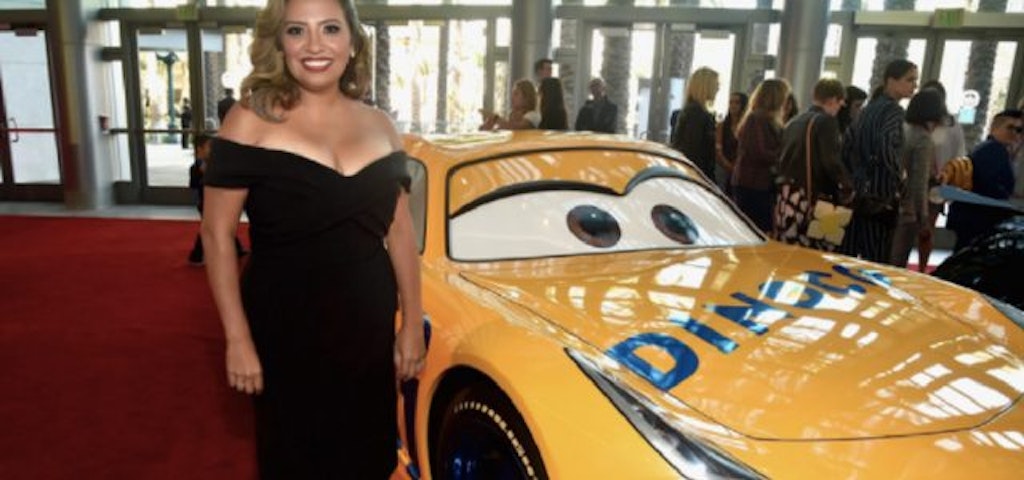 Cruz Ramirez, the newest character in the latest film of the Cars franchise, Cars 3, has become an animated icon for feminists and minorities. Voiced by actress-comedian Cristela Alonzo, the new female car has reminded us about the gender and race misrepresentation issue in Hollywood.
Why Should You Watch This Film?
Cars 3 is with filled with humor, heart and speed. Cars 3, like other Disney films such as Moana and Frozen, proves that female lead characters are not only engaging, but box-office successes. Most importantly, these female characters are relatable to everyone, no matter what race, gender, or age.
What's The Potential Impact?
Cruz Ramirez's character gives us hope in a time of gender misrepresentation in Hollywood. She is transforming the perceived notions about gender in animated films. The impact can be seen in theaters by watching the eyes of the young girls in the audience light up when Cruz zooms onto the screen. Best of all, Cruz shows us all that girls, spoiler alert, can and will win it all.
It is also very important to note the voice behind Cruz. Cristela Alonzo, a Mexican-American actress-comedian, is not only breaking the glass ceiling for young girls, but also for minorities in Hollywood. I don't remember the last Latino animated character in Hollywood since Speedy Gonzales, which was before my time. Thanks to Cristela, audiences not only see a strong female character, but a strong Latina character.
This isn't the first time Cristela is breaking down barriers for underrepresented voices in Hollywood. Her stand-up special, Lower Classy, reveals hilarious and heartwarming stories about growing up with immigrant parents, being Mexican-American, and being a woman in the U.S.
Cruz is a huge step for Latinas in Hollywood, but roles for Latinas overall still remain limited. Even though 45% of all movie ticket purchases are made by people of color, and 23% of those tickets are purchased by Latinos, Hollywood is still struggling to give these audiences films and characters that represent their lives and stories.
One underlying problem is the lack of women and people of color we have sitting in the director's chair. While many women directors have had increasingly great success, few Latina directors have had notable recognition. If you want to check out some Latina-directed films, this list of 20 Latina Directors You Should Know is a great start!
Find A Theater and Showing Time for 'Cars 3' Near You!
__
By: Gaby Lopez, New York City Intern
Gaby is a rising junior in the SC Johnson College of Business at Cornell University where she is receiving a degree in Hotel Administration and concentrating in Services Marketing. She is from Stamford, Connecticut and is interning in our New York office this summer. At Cornell, she is a Multimedia producer for the Cornell Daily Sun and works as a Room Service server at the on campus hotel. She is also heavily involved in her business fraternity, Phi Chi Theta. Gaby has a strong background in filmmaking and is currently beginning her career in marketing. In her free time, she loves to cook, work on her screenplay, and watch an unhealthy amount of Netflix.