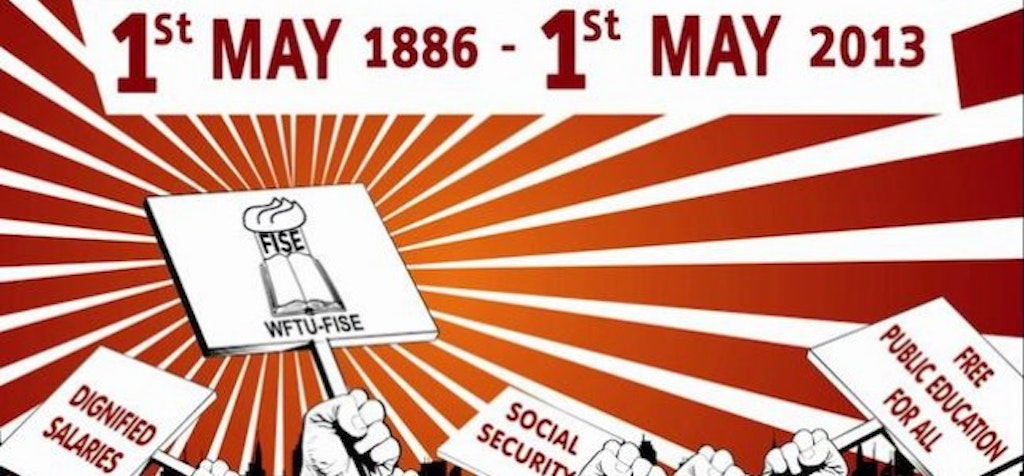 After leaving the Picture Motion office to run an errand for a screening tonight, I completed my final work-related task of the day only to be engulfed in the New York City May Day Parade. As the daughter of a former political dissident, I was both stunned and embarrassed that I had forgotten about this renegade holiday. I watched on the sidelines for several minutes, taking photos and raising my fist as a symbol of support for all of the passing signs that resonated with me. Less than a year ago I had walked out of graduate school classes at NYU to join Occupy Wall Street protests, and now I'm too occupied working to pay down my student loans to even remember when the protests are scheduled.
Formalized as an international holiday in the 19th century, May Day began as a day of action for workers demanding better conditions, higher pay, and humane hours from their employers as well as improved government oversight from their representatives. While the May Day message has changed with the times, its militant spirit and populist appeal has empowered new generations to take to the streets across the globe.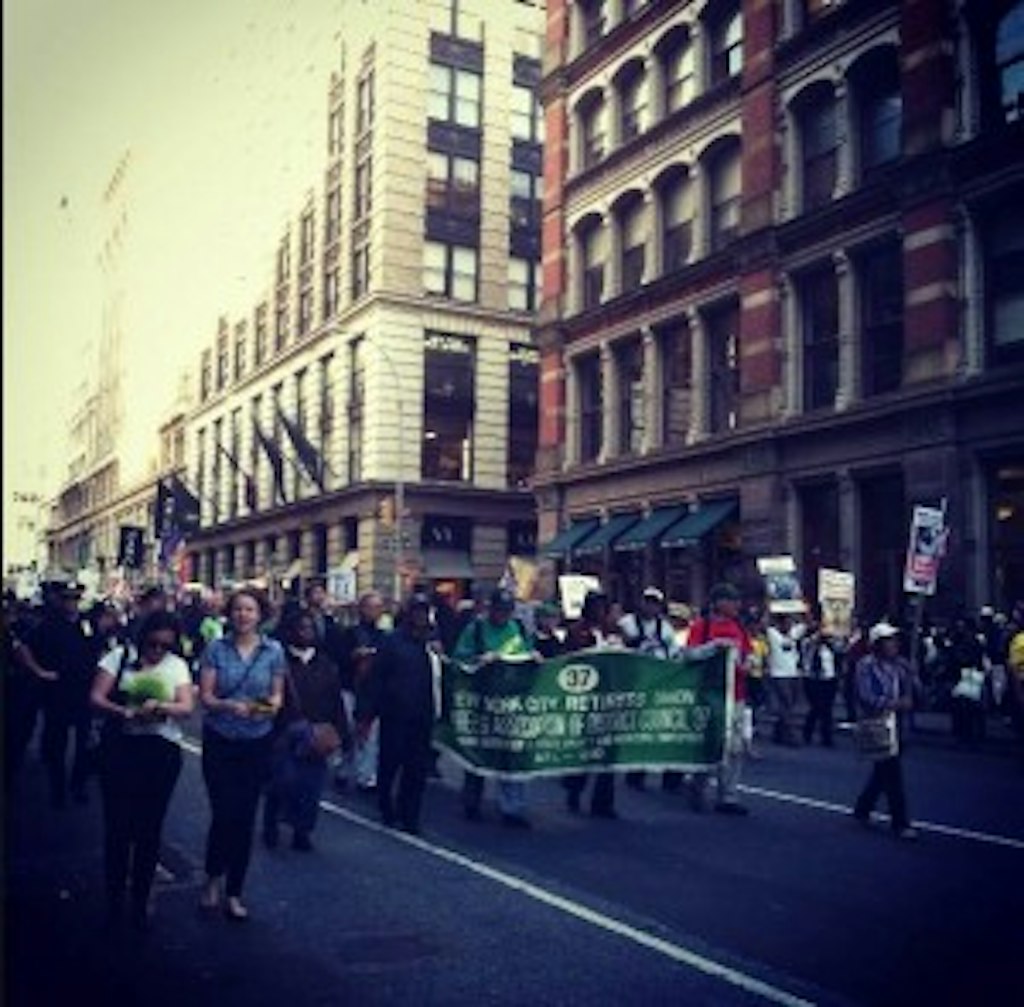 "May Day 2013: Come together to support worker and immigrant struggles, and fight the injustice of the 1%," boasts the official website for today's protests in New York City. The "1%", or rather the top 1% of the 1%, have enjoyed wealth that is historically unparalleled in American history, and has even grown since the financial collapse of 2007. Most of us are still recovering from the self-serving financial risks taken by a few greedy, yet politically influential businessmen working just blocks away from where I'm standing now.
In the eye-opening documentary Inequality For All, renowned economist Robert Reich presents the shocking expansion of wealth inequality in America with compelling historical evidence, personal narratives, engaging analysis, and a keynote presentation that would make even Al Gore fall to his knees in praise. Documentaries like this one are crucial to the political narrative in our nation and the progression of social justice issues, as they have greater intellectual resonance than a passing protest sign.
While I did not spend this May Day in the streets of New York City with the Occupy movement, I celebrated through my work on Reich's film and all the campaigns for documentaries that address the needs and interests of the 99%. As we prepare to launch our campaign for Inequality For All, today reminded me that the movement to address income inequality is still alive and well. I'm doing my part by building a campaign for a film that can be the focal point and rallying cry for every person on the street today. A cry that Wall Street can't ignore, and the rich and poor alike can actually get behind.
Get ready for it.
ALEXANDRA PEARSON manages Picture Motion's screening tours and campaign strategy development for select campaigns. Prior to joining Picture Motion, Alexandra Pearson served as a Communication Specialist at the NYC Elder Abuse Center and a Social Media Manager for journalist Katherine Stewart. Alexandra received her Masters of Arts in Media, Culture, and Communication from the Steinhardt School at New York university, where she focused on political persuasion and media systems. She also holds a Bachelors of Science in Political Communication from Emerson College in Boston. Alexandra has a background in political campaigns, media advocacy, and journalism, and is deeply passionate about social justice and environmental issues.